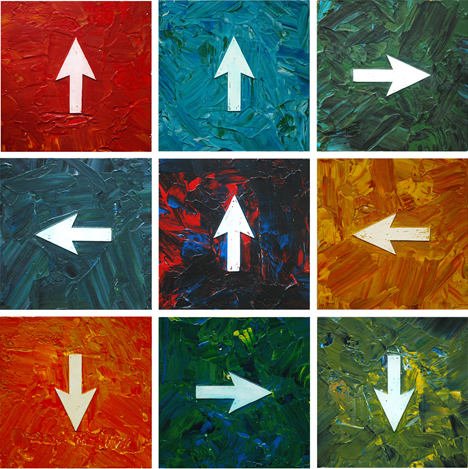 Arrows — c'est la vie!
While on the road I'm constantly being told where to go and what to expect. By arrows. So why not a series of artworks featuring the arrow?

Arrows represent direction, movement, route, course, bearing, orientation, trajectory and so on. Furthermore — as the ultimate signifier — the arrow is always referencing something else (perhaps a city 100 miles away; perhaps nothing more than another arrow guiding you on). We have all become culturally conditioned to follow arrows, and they can also be something that guides the eye around a painting or guides someone through a space. Accordingly, there is an abundance of references and possibilities for using the arrow as a dynamic object in art.

Generally, in these artworks, the arrow is an object cut from paper or board and embedded in the paint. With the arrow as a foil, the painting can then be undertaken in a fairly free fashion. The arrows remain more or less obvious in the final painting, often seeming like fossils frozen in time.